The Doctor:
Dr. Steve Heffelfinger, D.C., CFMP
Doctor of Chiropractic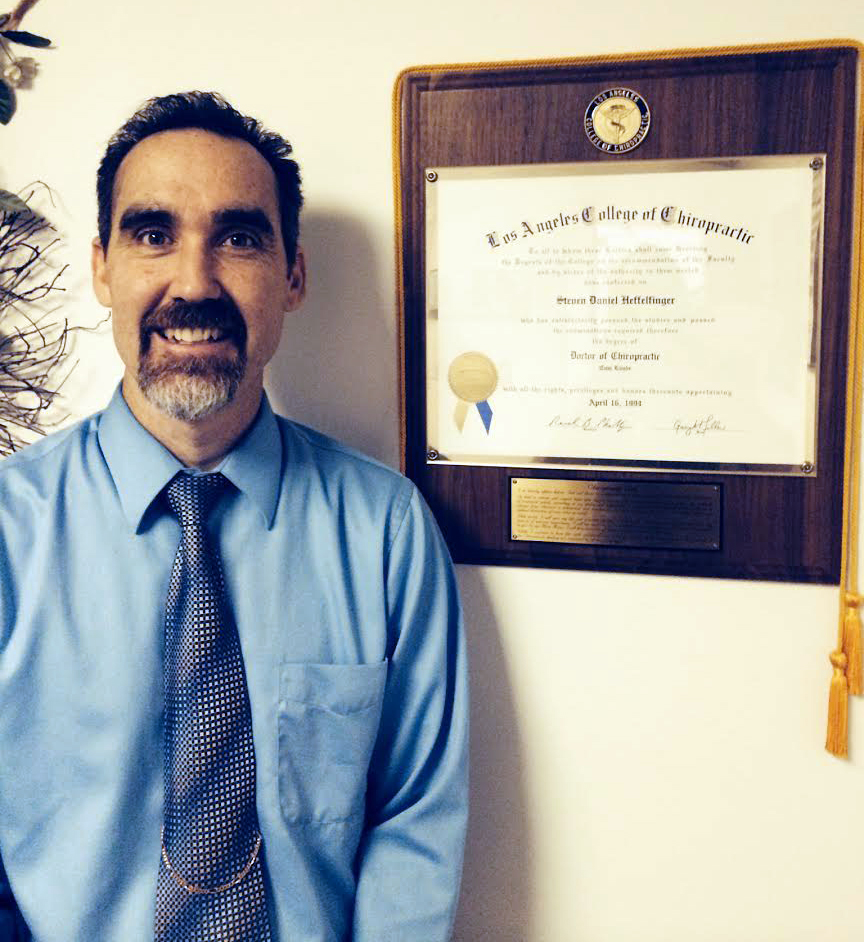 Dr. Steve Heffelfinger has been serving the Antelope Valley since 1994. He is a graduate of Los Angeles College of Chiropractic in Whittier, California. He is also a Certified Functional Medicine Practitioner. He believes in holistic non-invasive, comfortable procedures, techniques, and therapies to help bring you to optimal health.
While in school he was introduced to Applied Kinesiology. He uses Applied Kinesiology and a blend of many other healing methods to get to the cause of your condition. Dr. Steve Heffelfinger then can develop a treatment program specific to your needs to effectively help you restore and maintain your optimal health. We are all different and require individualized care when it comes to our body. He enjoys his family, reading, and camping. He serves as an ordained deacon in the Antiochian Orthodox Christian Church.
---
Madeline H.
I have been married for over 28 years and have three amazing children and 4 beautiful grandchildren! All of which grew up around Chiropractic. We have always used a holistic approach. We love serving our community. I have been blessed to have met some wonderful patients over the years. Some of my favorites things to do are hanging out on the coast, going hiking, and being outdoors. Spending time with my family is priceless.
---
Our Approach
Structure
There is an old saying in Chiropractic that structure dictates function. We are, in part, biomechanical beings. Our joints need to move well so we can live well and pain free. When joints are dysfunctional, our nervous system gets irritated and distracted from its primary functions. Scar tissue and myofascial tension need to be addressed to keep motion optimized. We utilize various techniques to free your system. Depending on the need, we use light touch, mechanical to high force techniques. See techniques section.
---
Nutrition
We all know the saying, "You are what you eat." More specifically, it's what you eat, digest, assimilate, and eliminate. We use a combination of biofeedback systems, muscle testing systems, and clinical Chiropractic to determine deficiencies in enzymes, minerals, vitamins, amino acids, fatty acids, hormones and more. We determine the energetic states of your organ systems, and the energetic patterns of infective organisms.
---
Emotions
Emotions are powerful electro-hormonal-chemical drivers that have a deep effect on the richness of our lives. They give us great feedback with a huge array of frequencies. Sometimes they can act as roadblocks to where we want to go. These are called Neuroemotional Complexes(NEC). One aspect is to clear out NECs using Neuro-Emotional Technique, connecting broken emotional circuts and lightly stimulate the energy system. We have seen this clear many aspect of health, bringing people back to wellness. This can be applied to phobias, self sabotaging processes, and lingering disturbing experiences. We have found varying approaches with color, vibration, laser, nerualintegration, emotional freedom technique, occular lock and Applied Kinesiology make changes at deeper levels.
---
Allergies
Living in the Antelope Valley, we certainly are all familiar with allergies. We think of runny noses, sneezing, headaches and fatigue. We can also think of food allergies. We now know that many illnesses (i.e. headaches, back aches, joint pains, addiction, PMS, indigestion, cough, body aches, etc.) are caused by undiagnosed allergies. When left untreated, allergies can become serious life threatening illnesses. A/SERT mixed with KST is an innovative and completely natural method for regaining better health with often permanent freedom from allergies and the diseases arising from those allergens. Once the offending allergens are identified, the body can be de-sensitized to them by stimulating acupressure meridians, essentially "re-setting" the body's computer. Stimulation is typically done using a cold laser or Arthrostim, which has the advantages of being quick and completely painless, and it can be done through most clothing. In most cases, a given allergen will only need to be desensitized once for lasting results. The total number of needed sessions is then primarily dependent on the number of allergens that need to be desensitized.
Toxins
Our foods are sprayed with pesticides. Our water has chlorine and fluoride. The air we breathe is polluted. Our cleaning supplies (soaps, shampoos and detergents) are loaded with chemicals and many have sodium laurel sulfate known to cause cancer. Mercury fillings, lead, arsenic, aluminum, vaccinations, household adhesives, paints and other home products like plastics, tobacco, drugs and more all contribute to toxins in our bodies that lead to disease, allergies, mental incapacitation with side effects like swelling, rashes, insomnia, headaches, fatigue and pain. "The EPA reports that in 2002 24,379 US facilities released 4.7 billion pounds of toxins into the atmosphere. 72 million pounds were known carcinogens. Depending on your size you inhale 3,000 to 8,000 gallons of air each day." We can use Ionic cleanse/Footbath, nutrition, homeopathy, infrared sauna, turbo sonic, medi-body packs and laser in various combinations to clean up our bodies.
---
Electrical Pollution
Dr. Robert O. Becker, author of Cross Currents and the Body Electric stated that "I have no doubt in my mind that at the present time that the greatest polluting element in the earth's environment is the proliferation of electromagnetic fields." (The Health Effects of Electrical Pollution by The National Foundation for Alternative Medicine, Washington, D.C. pg 2). Electrical pollution (dirty electricity) is generated by our modern technology. It is an invisible toxin that plays a role in a variety of health problems, ranging from insomnia to cancer. Dirty Electricity is characterized by higher frequencies generated by electronics, energy saving devices, household appliances, and power lines. The high frequencies cause cellular stress in our bodies, leading to illness. We use various diffusers, nutrition, and Geo-pathic stress reset to help maintain our health. This approach updates often as the pollution becomes stronger.